Cool art  by amazing artists
---
---
Welcome to what I think is Cool art.
There are an astonishing array of fantastic images created by contemporary and past artists. Stunning art, made in the mediums that suit them best. I am not a purist when it comes to medium, although, for me, oil paints are eternal. I love working in charcoal as it is the most basic and highly expressive. I consider myself a mediocre artist in comparison to my contemporaries and of course the past masters. On this cool art page I will be featuring artists whose works excite and inspire me. With permission I will feature their work one artist at a time.

Cool Art by:

Frank Frazetta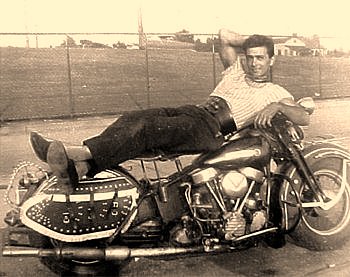 February 9, 1928 – May 10, 2010

Frank Frazetta was the original and true dark master of fantasy art.
He set the benchmark that all the others aspired to. He took fantasy art to a whole new level. The mood of his work resonates with true atavistic power. It has a visceral quality which captivates the viewer and draws him into the fantastic world of Frazetta's imagination. He was a master at capturing the emotive moment that leaped off the canvas with immersive impact.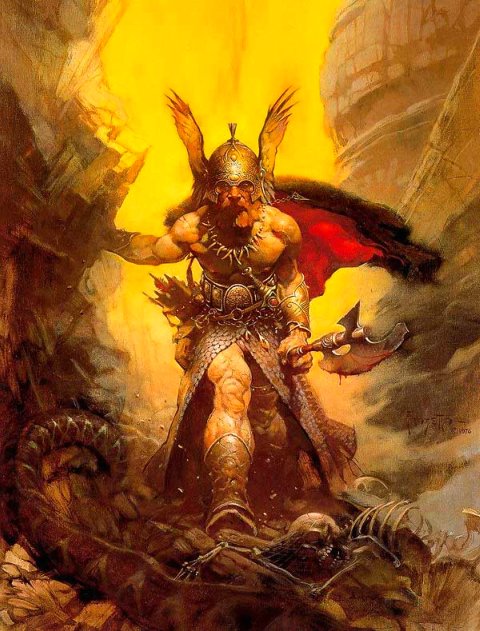 The first time I saw his work I had to do a double take as I thought the figures were moving on the page. Very few artist throughout history could accomplish such arrested motion. It is my opinion that Frank Frazetta is the most influential fantasy artist of the past fifty years.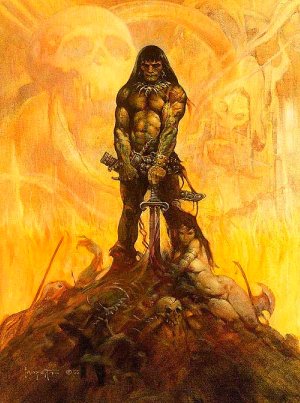 Frank Frazetta changed the nature of fantasy art from fanciful and romantic intellectualism to something more basic. Something that evoked real emotion and visual excitement.

From the imagination of Frank Frazetta
It is not easy to pick only a handful from the many of Frank's works to display, so...I have chosen the ones that have a personal resonance and satisfy my visual curiosity.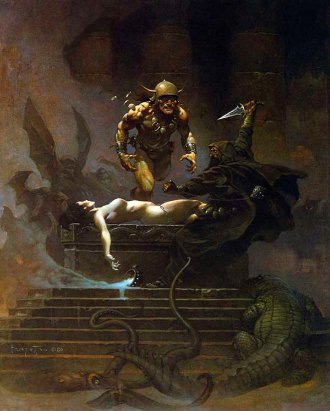 "Frazetta was born and raised in Brooklyn, New York. At the age of eight, at the insistence of his school teachers, Frazetta's parents enrolled him in the Brooklyn Academy of Fine Arts. He attended the academy for eight years under the tutelage of Michele Falanga, an award-winning Italian fine artist. Falanga was struck by Frazetta's significant talent. Frazetta's abilities flourished under Falanga, who dreamed of sending Frazetta to Europe, at his own expense, to further his studies. Unfortunately, Falanga died suddenly in 1944 and with him, his dream. As the school closed about a year after Falanga's passing, Frazetta was forced to find work to earn a living.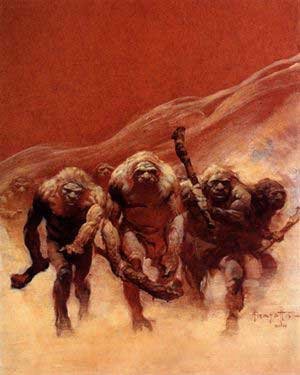 At 16, Frazetta started drawing for comic books that varied in themes: westerns, fantasy, mysteries, histories and other contemporary themes. Some of his earliest work was in funny animal comics, which he signed as "Fritz". During this period he turned down job offers from comic giants such as Walt Disney. In the early 1950s, he worked for EC Comics, National Comics (including the superhero feature "Shining Knight"), Avon and several other comic book companies. Much of his work in comic books was done in collaboration with friends Al Williamson and Roy Krenkel.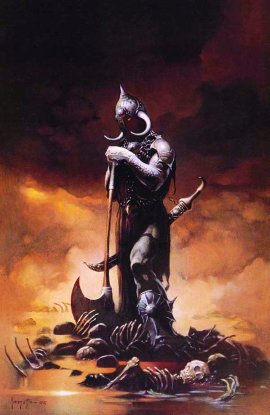 Through the work on the Buck Rogers covers for Famous Funnies, Frazetta started working with Al Capp on his Li'l Abner comic strip. Frazetta was also producing his own strip, Johnny Comet at this time, as well as assisting Dan Barry on the Flash Gordon daily strip. In 1961, after nine years with Capp, Frazetta returned to regular comics. Having emulated Capp's style for so long, Frazetta's own work during this period looked a bit awkward as his own style struggled to re-emerge.

Work in comics for Frazetta was hard to find, however. Comics had changed during his period with Capp and his style was deemed antiquated. Eventually he joined Harvey Kurtzman doing the parody strip Little Annie Fanny in Playboy magazine.

By 1964, one of Frazetta's magazine ads caught the eye of United Artists studios. He was approached to do the movie poster for What's New Pussycat and earned his yearly salary in one afternoon. He did several other movie posters. Frazetta also started producing paintings for paperback editions of adventure books. His cover for the sword-and-sorcery collection Conan the Adventurer by Robert E. Howard and L. Sprague de Camp (Lancer 1966) caused a sensation-numerous people bought the book for its cover alone. From this point on, Frazetta's work was in great demand. During this period he also did covers for other paperback editions of classic Edgar Rice Burroughs books, such as those from the Tarzan and Barsoom (John Carter of Mars) series. He also did several pen and ink illustrations for many of these books.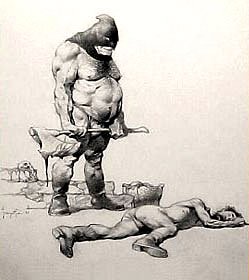 Since that time, most of Frazetta's work was commercial in nature, providing paintings and illustrations for formats such as movie posters to book jackets and calendars. Many of his paintings were not commissioned but have nonetheless become highly sought after commercially.

More art  from Frank Frazetta
Frazetta's work has long been admired by many Hollywood personalities. Clint Eastwood and George Lucas-fans and friends of Frazetta's-have commissioned works from him for some of their movie projects.

Artworks  by Frank Frazetta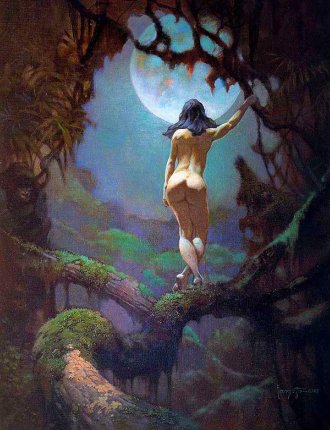 Once he secured a reputation, movie studios started trying to lure him to work on animated movies. Most, however, would give him participation in name only-most of the creative control would be held by others. Finally in the early 1980s a movie deal was offered which would give him most creative control. Frazetta worked with animated movie producer Ralph Bakshi on the feature Fire and Ice released in 1983. Many of the characters and most of the story were Frazetta's creations. The movie proved to be a commercial disappointment, however, as Frazetta's fantastic imagery could not be sufficiently reproduced via then-current animation technology and methods. Frazetta soon returned to his roots in painting and pen and ink illustrations.

Great fantasy art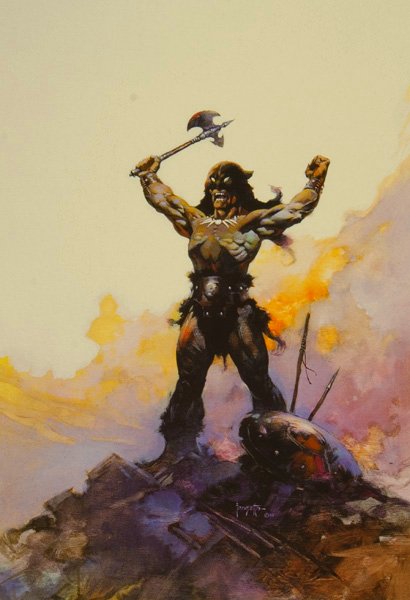 Today, Frazetta's work is so highly regarded that even incomplete sketches of his sell for thousands of dollars. Frazetta's primary commercial works are in oil, but he also worked with watercolor, ink and pencil alone.

In his later life, Frazetta had been plagued by a variety of health problems, including a thyroid condition that went untreated for many years. A series of strokes impaired Frazetta's manual dexterity to a degree that he switched to drawing and painting with his left hand. He still continued to find an outlet through sculpture and other means.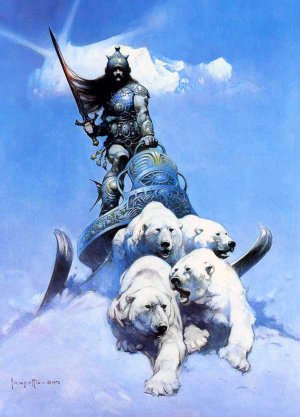 The cover of Wolfmother's debut album features Frazetta's "The Sea Witch"Frazetta's paintings have been used by a number of recording artists as cover art for their albums. Molly Hatchet's first 2 albums feature "The Death Dealer" and "Dark Kingdom" respectively. Dust's second album, Hard Attack, features "Snow Giants". Nazareth used "The Brain" for their 1977 album Expect No Mercy. Recently, Wolfmother used "The Sea Witch" as the cover for their self-titled debut. Wolfmother has also used other Frazetta paintings for the covers of their singles.

Self portrait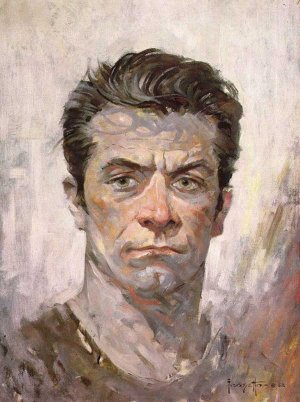 Ellie Frazetta

His wife of 53 years, Eleanor "Ellie" Kelly, who served as Mr. Frazetta's business partner, died in 2009. Survivors include four children, Alfonso Frank Frazetta, known as Frank Jr., and William Frazetta, both of East Stroudsburg, Pa., Heidi Grabin of Englewood, Fla., and Holly Frazetta of Boca Grande, Fla.; three sisters; and 11 grandchildren.

Frank and Ellie were married in 1956.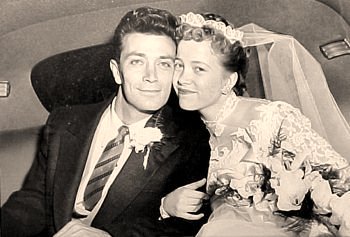 At age 82, Frank died on May 10 2010 at a hospital in Fort Myers, Fla., after a stroke. He has left us a legacy of fantastic artworks that will forever live large in the mind of his family, friends and legions of fans. Thank you Frank...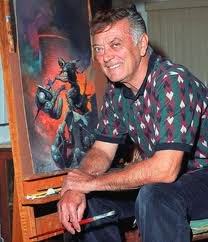 For books of Frank Frazetta's work please visit My Amazon Bookstore

---