---
 Books
---
---
Return to the Internet Shopping Mall

...my bookstore

Welcome to my bookstore
In my bookstore I will attempt to offer as many free book downloads I can find. I love to read good fiction and there are many copyright free books on offer. Good classics as well as contemporary works.
The first book on offer is my own. It is not copyright free, but in an effort to generate readers I'm offering a free PDF download.

Feel free to distribute this book to all your friends.
For a hard copy please click on the Amazon links on the right.

In return I ask you to leave a comment if you liked the story or
leave a review at the bottom of the page and continue to browse my site for good information on related subjects and great internet shopping deals.

CODA


JOURNEY OF A FREEBORN CLONE


XN5




'I am Coda of White Mountain! Son of Thaif the fisherman and Ola the teacher.

Today I am a man!

I have slain my enemy and avenged my father.

I have defended my mother's dignity and survived in mortal

combat.

To all who hear me this day…I am Coda…a man…of White

Mountain!'

The first book of the science fiction trilogy
that chronicles the journey of Coda, the naturally born son of clones,
against the backdrop of an alternate space of
ninety nine Universes and twelve realms of life.

Captain John Masters and his crew are summoned to
investigate an alien craft discovered on the edge of the Othaxal Cloud.
An alien is found on board, frozen in ice.

Who is he and where does he come from?
What is the story of his life and how will his discovery impact
on those around him?

As the saga unfolds
we are taken back three and a half
thousand years on a journey of love, hate, revenge,
slavery, racism and spiritual growth.

These are the forces that hammer Coda
into the very special being he finally becomes.
Click on the book

graphic to download

your copy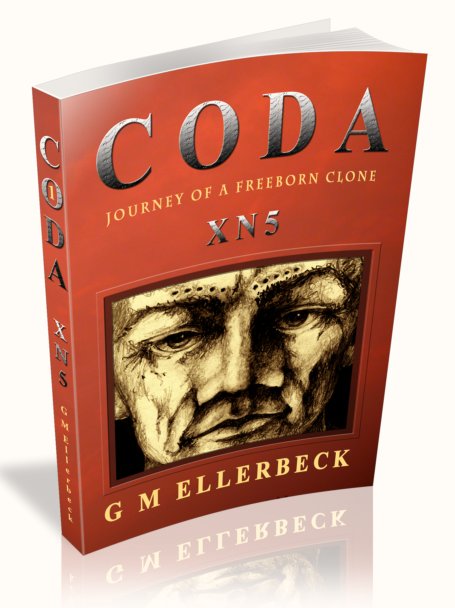 Invisible Stats
Have you read my book CODA XN5?
Do you have a review? Share it!
What Other Readers Have Said
Click below to see contributions from other visitors to this page...

The Multiverse Not rated yet
Gary, I love and hate you in equal parts, Love the book, a totally engrossing read, really enjoyed it from cover to cover, it just didn't stop. It's five …
P Beckett (ex editor of FSX mag) Not rated yet
Fantastic Read,A Fast paced page turner that keeps you hooked. This first volume of a trilogy looks at the main character "Coda" who begins life as …
---
Favored Links
---